*The Following Press Release Was Issued By Publicity Please*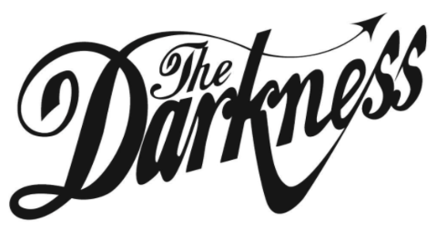 "MOTORHEART" FROM THE DARKNESS OUT NOW 
LOS ANGELES, CA – Multi-platinum UK rock icons THE DARKNESS – frontman/guitarist Justin Hawkins, guitarist/producer Dan Hawkins, bassist Frankie Poullain, drummer Rufus Taylor – released their brilliant new album Motorheart, via Cooking Vinyl. The band's opus has been greeted with both critical acclaim and huge excitement from fans, who have been titillated by a string of fantastic tracks and videos. 
Singles "It's Love, Jim,""Jussy's Girl,""Nobody Can See Me Cry" and "Motorheart" demonstrate an album of immeasurable rock and roll extravagance and yet another masterpiece from England's favorite glam rock giants. "It's Love, Jim" is an all-out rock 'n' roll barrage, "Jussy's Girl" oozes melodic rock, "Nobody Can See Me Cry" is a high-octane riffola and the growling, pounding "Motorheart" brims with the band's trademark vocals and blazing guitars. 
Loudwire dubs Motorheart "A full force rock 'n' roll bash," Kerrang! calls it "Riff-filled and joyfully thrusting" and The Big Takeover raves, "Motorheart… is a glorious exercise in meaty arena rock guitar riffs and soaring falsetto vocals." Billboard praises, the "album helps solidify the band's legacy as one of the United Kingdom's preeminent rock acts of the past two decades," Alternative Press gushes, "On their seventh album, the four-piece are back at it, creating joyous, defiant rock that pummels and shakes" and The Aquarian enthuses, "The amazing Motorheart (is) another eventual classic, with songs that should be chart toppers and radio staples." Ultimate Classic Rock declares, "The Darkness' rock 'n' roll sounds like one of the genre's last great hopes, all delivered with a wink, a smile and an armful of killer riffs," Vintage Guitar Magazine proclaims, "The Darkness is a fierce, rockin' band that wears its influences proudly" and Riff Magazine says, "With Motorheart, The Darkness lives up to its glitzy, campy, hard-rocking reputation, crafting its best album since its debut."  
MOTORHEART Tracklisting:
Welcome Tae Glasgae
It's Love, Jim
Motorheart
The Power And The Glory Of Love
Jussy's Girl
Sticky Situations
Nobody Can See Me Cry
Eastbound
Speed Of The Nite Time
*You Don't Have To Be Crazy About Me… But It Helps
*It's A Love Thang (You Wouldn't Understand)
*So Long
*bonus deluxe tracks 
With a back catalogue overflowing with sonic gold and a live reputation that most bands can only dream of attaining, Stay tuned for North American 2022 tour dates to be announced. Keep up with all The Darkness live dates HERE.
http://www.thedarknesslive.com/
https://www.facebook.com/thedarknessofficial/
https://twitter.com/thedarkness
https://www.instagram.com/thedarkness/
https://www.youtube.com/user/TheActualDarkness
*Photo Credit – Simon Emmett*