*The Following Press Release Was Issued By Qabar – Extreme Music PR*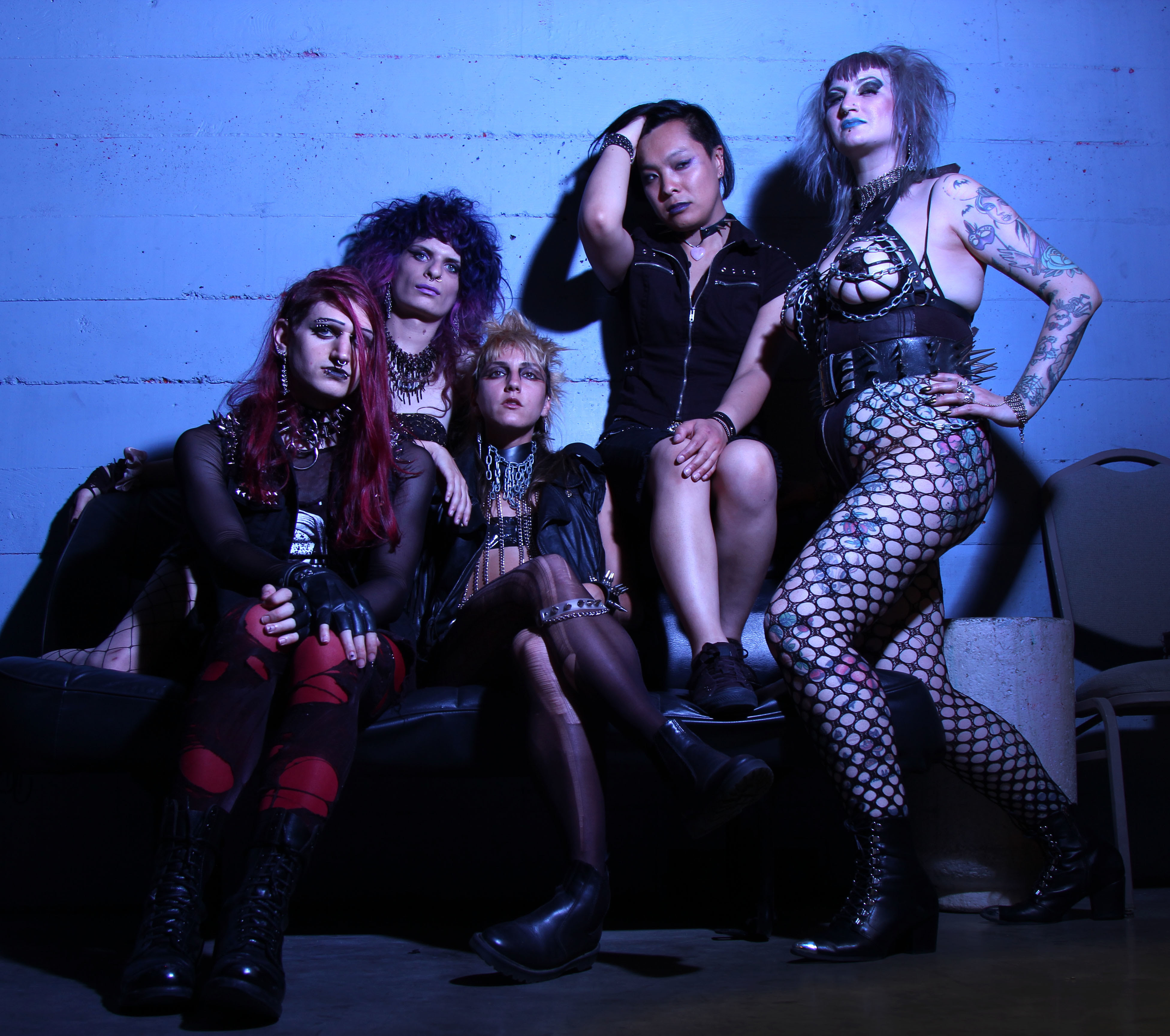 Photo by: Bailey Kobelin 
Hear queer deathrock crew Mystic Priestess' EP 'Part Time Punks Sessions'
Oakland-based anarcho-deathrock group Mystic Priestess dropped their EP, Part Time Punks Sessions, on cassette (limited edition run of 300 purple tapes) on March 27. 
Singer Sierra Rose says, "The tracks on 'Part Time Punks Sessions' invokes the balance between light and darkness. It's about living in the present and being aware of how the world is affected by all living beings."
Guitarist and saxophonist Winter Zora adds, "The EP is spirited, to say the least. We wanted to convey a fearless presence despite the violence we face as queer and trans people, and here we reclaim deathrock as a queer art form."
Stream the EP in its entirety at CVLT Nation or Bandcamp
Cover Art: Daniel Foreste
Growing up in the punk/deathrock/post-punk/queer DIY underground, Mystic Priestess was founded by Sierra Rose and Winter Zora in 2016. They debuted their first self-titled EP in 2017, followed by the EP No Tomorrow, Only Today in 2018.
Mystic Priestess's aptly and creatively revamps traditional deathrock and anarcho-punk, resulting in a sound that is at once refreshing and familiar. Their multi-faceted approach has led them to play with a diverse set of punk and deathrock luminaries, including anarcho-punk and punk legends Negative Approach, TSOL, The Mob and the Iconoclast, deathrock visionaries Gitane Demone of Christian Death and Screaming Dead, as well as current international post-punk and darkwave peers RAKTA and Diavol Strain.
The Oakland, California-based anarcho-deathrockers return with a brand-new EP, Part Time Punks Sessions. Recorded for the artist archival series of the KXLU radio show of the same name, the recording was performed in a live session at Cave Studios in Los Angeles, that aptly captures the fury of their intense live performance. Part Time Punks Sessions combine furious vocals with the cavernous decay of aggressive guitar melodies, haunting synths, and insistent rhythms. From the anthemic progressions of "No Tomorrow, Only Today" to the emotionally driven "Where Were You," a lament that decries domestic violence and abandonment, the EP is charged and dynamic from beginning to end.
Order Part Time Punks Sessions:
https://mysticpriestess.bandcamp.com/album/ptp-sessions
For More Info:
https://www.facebook.com/MysticPriestess777
https://www.instagram.com/mystic.priestess
https://open.spotify.com/artist/15TTtgdFGt0aSHXN6tCw9T
---
PRESS:
"A lot of bands cite '80s death rock as an influence, but few make it as believable as Mystic Priestess." — Kerrang!

"laden with synthesized atmosphere with a guitar tone so unique, it illustrates a purple parallel dimension that's alien to all physical laws governing the familiar." — CVLT Nation
 
"'Smoke and Mirrors' is a great example of Mystic Priestess's top-shelf, witchy gothic punk rock." — Post-Punk.com on the track "Smoke and Mirrors"
"Mystic Priestess are one of the best deathrock bands around right now" — The Sound Not The Word

"Mystic Priestess' aptly and creatively revamps traditional deathrock and anarcho punk, resulting in a sound that is at once refreshing and familiar." — New Noise Magazine 
 
"Mystic Priestess have a dense and claustrophobic sound" — ThePunkSite.com

"a relentless melodic charm mixed with a finessed fierceness of delivery" — Stereo Embers Magazine on the track "Eternal Resurrection"