*The Following Press Release Was Issued By Fly PR*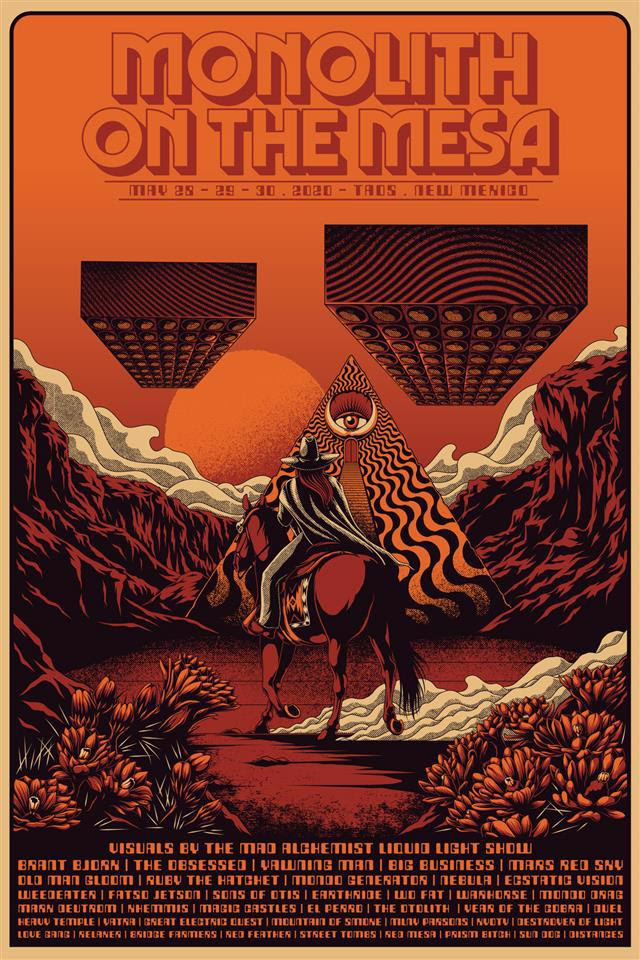 MONOLITH ON THE MESA
LINE-UP NOW INCLUDES BIG SCENIC NOWHERE (FU MANCHU) AND THE ATOMIC BITCHWAX
EARTHQUAKER DEVICES CONTEST WINNER ANNOUNCED
February 20, 2020 (Taos, New Mexico) – Monolith on the Mesa line-up now includes Big Scenic Nowhere (Fu Manchu) and Atomic Bitchwax. Both bands had been asked to play late last year but only recently were able to confirm. Big Scenic Nowhere guitarist Bob Balch (Fu Manchu) explains "This will be our second gig! We are really looking forward to coming to Taos and jamming out!"
The Obsessed are one of the few bands to return to the festival for the second year. Band founder and iconic frontman, Wino says "Monolith on the Mesa is thee event if your looking for (1). a super chill place to see and hear cool good music, (2). great fukking beer, (3). you want to stay in an Earthship instead of — and for the same price as! — a fleabag hotel, (4). good food, (5). amazing landscape, (6). reasonable admission, (7). put on by True and Righteous folks who are more concerned with providing quality entertainment than fleecing you for every cent. These cats got it going on. Be there."
The newly unveiled promotional video for the festival has just posted  —

Festival media partner, The Obelisk, is currently brewing up a contest which will be announced soon.
EarthQuaker Devices contest winner was posted to Instagram on February 12, 2020. Jesse Enrique Moran, from Salt Lake City is a barber, musician, and biker and can be found @_badbones_
MONOLITH ON THE MESA LINE-UP:
Brant Bjork (Palm Desert, CA)
The Obsessed (Potomac, MD)
Yawning Man (Palm Desert, CA)
Big Business (Melvins, Karp) (Los Angeles, CA)
Atomic Bitchwax (Neptune, NJ)
Mars Red Sky (Bordeaux, France)
Old Man Gloom (Santa Fe, NM)
Ruby the Hatchet (Philadelphia, PA)
Mondo Generator (The Dwarves, QOTSA) (Los Angeles, CA)
Nebula (Fu Manchu) (San Francisco, CA)
Big Scenic Nowhere (Fu Mancho) (San Diego, CA)
Ecstatic Vision (Philadelphia, PA)
Weedeater (Wilmington, NC)
Fatso Jetson (Palm Springs, CA)
Sons Of Otis (Toronto, Canada)
Earthride (Frederick, MD)
Wo Fat (Dallas, TX)
Warhorse (Worcester, MA)
Mondo Drag (San Francisco, CA)
Mark Deutrom (Austin, TX)
Khemmis (Denver, CO)
Magic Castles (Minneapolis, MN)
El Perro (Radio Moscow) (San Diego, CA)
The Otolith (SubRosa) (Salt Lake City, UT)
Year of the Cobra (Seattle, WA)
Duel (Austin, TX)
Heavy Temple (Philadelphia, PA )
Yatra (Ocean City, MD)
Great Electric Quest (San Diego, CA)
Mountain Of Smoke (The Sword) (Dallas, TX)
Mlny Parsons (Royal Thunder) (Atlanta, GA)
KYOTY (Dover, NH)
Destroyer of Light (Austin, TX)
Love Gang (Denver, CO)
Relaxer (EarthQuaker devices) (Akron, OH)
Bridge Farmers (Austin, TX)
Red Feather (Nashville, TN)
Street Tombs (Santa Fe, NM)
Red Mesa (Albuquerque, NM)
Prism Bitch (Albuquerque, NM)
Sun Dog (Albuquerque, NM)
Distances (Albuquerque, NM)
+ Visuals by The Mad Alchemist liquid light show (San Francisco, CA)
MONOLITH ON THE MESA DATES AND TIMES:
Box office opens at 12 noon Thursday, Friday and Saturday.
Thursday, May 28th, 2020 doors at 3:00 pm, first band at 4:15 p.m.
Friday, May, 29th 2020 doors at noon, first band at 1:00 p.m.
Saturday, May 30th, 2020, doors at noon first band at 1:00 p.m.
VENUE INFORMATION:
Taos Mesa Brewing: The Mothership
20 ABC Mesa Rd.
El Prado, New Mexico  89529
T. 575-758-1900
taosmesabrewing.com
TICKET INFORMATION:
Rain or shine event! No refunds!
Ticketing information at (505) 886-1251.
Purchase tickets HERE.
ABOUT MONOLITH ON THE MESA
Monolith on the Mesa, a "High Desert Experience," is an independent three-day music and immersive art festival founded by Dano Sanchez in 2019. Co-founder Roman Barham focuses on band booking. Both are Albuquerque natives. The festival takes place at the Taos Mesa Brewing Mothership, and on the grounds of Hotel Luna Mystica, just outside of Taos, New Mexico. The festival is focused on heavy riff-rock acts from across multiple sub-genres including stoner rock, heavy psych, doom metal, sludge, drone, and retro rock. The dramatic vistas and multiple stages along with immersive art installations set this festival apart. Attendees have the chance to enjoy all 40 bands performing during the three day event since performances switch between the scenic outdoor "earthship" amphitheater stage and the club-style indoor stage. Festival capacity is limited to 1,500 to provide an intimate experience.
Visit the festival online at:
monolithonthemesa.com
facebook.com/monolithonthemesa
instagram.com/monolithonthemesa
twitter.com/onmonolith
ABOUT HOTEL LUNA MYSTICA VINTAGE TRAILER PACKAGES
Hotel Luna Mystica vintage trailer park has 20 trailers available that sleep anywhere from 2-8 depending on the trailer package selected. The trailers are as comfortable as it gets for sleeping in the desert. They are equipped with heaters and include all the amenities of a hotel, but with magnificent views of the Mesa, and the Sangre de Christo Mountains and are located just steps away from the festival.
There are only three earthship packages available and they are the finest that Taos has to offer. The "Phoenix" earthship is a VIP experience, simply incomparable. This is the most luxurious earthship built to date. The "Picurus" and "Lumeria" earthships are also available. Earthships are homes that are made from recycled materials (walls made of old tires, cans, and bottles) and which use reclaimed rain water and passive solar heating. They provide an experience akin to staying in a terrarium that features the finest sleep accommodations.
Bookings and more information at monolithonthemesa.com.
2019 poster art also by Simon Berndt