*The Following Press Release Was Issued By Positive Jam PR*
OUT NOW ON ANTI-FLAG'S A-F RECORDS – EARLY RISER'S VOCATIONS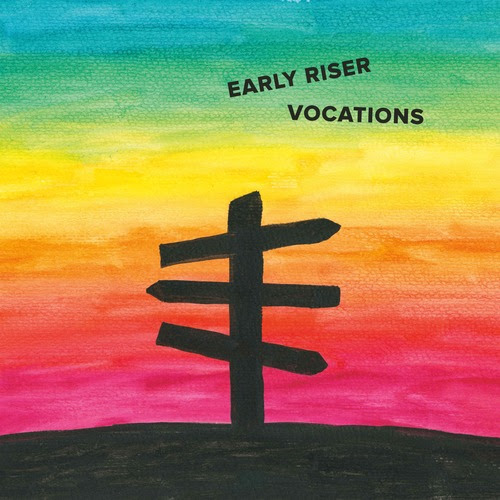 "[Early Riser] fuses power-poppy punk, soaring cello and rollicking Americana rhythms, sounding sort of like a cross between that dog. and early Against Me!." – BrooklynVegan
"… infectious hooks that will keep you coming back for more." – UPROXX
Watch "Vocations" music video here: youtu.be/2IJbSqCZXzc
BROOKLYN, NY – Early Riser's new cello-driven, harmony-fueled pop-punk album Vocations is out now on all streaming platforms.
Early Riser has emerged as one of the most distinct-sounding bands in the punk scene, blending cello riffs and soaring vocal harmonies with pop hooks and uplifting lyrics. Since the 2017 release of their debut LP, Currents, they've played The Fest and Montreal's Pouzza Fest, toured with The Homeless Gospel Choir and opened for The Hold Steady, Anti-Flag, Jonah Matranga, Chris Farren, Spanish Love Songs and Katie Ellen. They've also solidified their lineup, with founding members Kiri Oliver (vocals/guitar) and Heidi Vanderlee (cello/vocals) joined by Nicole Nussbaum on bass/vocals and Mikey Erg on drums/vocals. 
Vocations, their second album on A-F Records, zeroes in on their strengths and then amplifies them, with a fuller sound, four-part vocals and insightful lyrics that dig into the challenges of life, but ultimately focus on the way forward. Although the album was written and recorded before the pandemic, several of the songs ask questions that have taken on even more meaning in the past year: "What are you doing with your life for the next 24 hours?""If I asked you right now to be honest, would you just run away?""Are we artists, are we fighters, are we all of the above?" While 'Currents' was about closing the door on the past, 'Vocations' is about being fully immersed in the challenges and opportunities of the present. It's a powerful love letter to self-acceptance and the decision to double down on what's most important to you.
(c) Toni Skotcher
Vocations track listing:
1. Vocations
2. Skeleton
3. Metronome Heart
4. Wallflower in Red Lipstick
5. Drop the Torch
6. The Narrator
7. Other People's Riches
8. Pleasantries
9. Corners
10. Blood on Canvas
Album credits
Kiri Oliver – vocals, guitar, keyboards
Heidi Vanderlee – cello, vocals
Nicole Nussbaum – bass, vocals
Mike Yannich – drums, percussion, vocals
Featuring Chris Krasnow – trombone on tracks 1, 2, 6 & 8
Lyrics by Kiri Oliver
Music by Early Riser
Published by Unicornity/MaineCoons4E (ASCAP) 2019
Produced by Eva Lawitts and Early Riser 
Engineered by Eva Lawitts and Chris Krasnow at Wonderpark Studios
Mixed by Chris Krasnow at Wonderpark Studios
Mastered by Sarah Register
Artwork by Kiri Oliver
Design and layout by Nicole Nussbaum