*The Following Press Release Was Issued By Solters*
LP was SPIN's July 2021 cover feature, who declared, "(Their) voice, a glorious warble that spans five octaves, has incited bidding wars between major labels." Guitar World praised LP as, "One of the most compelling songwriters in the world right now," American Songwriter dubbed LP a "Dynamic sonic force," Flaunt called them a "Musical Banshee, melancholic rebel, headstrong gambler and lyrical truth-teller," and TMRW Magazine said, "You could call (them) a singer songwriter, but that doesn't quite do LP justice as an artist who creates pure poetry, which just happens to be sung along with some killer melodies." Earmilk wrote, "It's hard to think of a voice in modern music as hypnotizing as LP's and (their) knack for pulling at your emotions is unmatched." Pitch List podcast raved, "(They) will draw you in with (their) ethereal vocals; you'll stay for gorgeous storytelling and an endearing personality" while Gay Star News enthused, "With a voice that dances between gravelly and ethereal, songs that proudly explore themes of same-sex love and a style that's androgynous and effortlessly cool (think Harry Styles meets Linda Perry meets peak-Strokes)…"  
The lush and captivating Churches was executive produced by Mike Del Rio (Kylie Minogue, X Ambassadors, Skylar Grey). In addition to tracks produced by Del Rio, Churches includes production by Isabella Machine Summers (Florence + The Machine); Nate Campany (Tove Lo, K.Flay, Christina Aguilera) and Kyle Shearer (Becky G, Tove Lo, Carly Rae Jepsen) – collectively known as Valley Girl; Lars Stalfors (Health, Local Natives, Cold War Kids); two-time Grammy winner Dan Wilson (Adele, Pink, Leon Bridges, James Bay); and Dan Nigro (Olivia Rodrigo, Carly Rae Jepsen, Sky Ferreira). The album was mastered by multi-Grammy winner Emily Lazar (HAIM, Maggie Rogers, The Killers, Vampire Weekend, Coldplay). 
LP released five singles leading up to Churches' album release with a combined stream/view count across all platforms of 79M. Churches' first single "The One That You Love" generated more than 24M YouTube views of the official video, 21M Spotify streams and had its TV debut on "Late Night with Seth Meyers." The album's second single "How Low Can You Go" has 7M streams on Spotify, 6.7M YouTube views and hit Triple-A radio's Top 3 most added songs. The video for the third single, "One Last Time" co-starring actor/filmmaker/model Jaime King, racked up 16M YouTube views and 8.9M streams on Spotify.  LP's "Goodbye" has generated 2.3M YouTube views and nearly a million Spotify streams. LP's "Angels" has 1.1M Spotify streams and nearly 900K YouTube views. 
CHURCHES TRACK LISTING:
1. "When We Touch" 
2. "Goodbye" 
3. "Everybody's Falling in Love" 
4. "The One That You Love" 
5. "Rainbow" 
6. "One Last Time" 
7. "My Body" 
8. "Angels" 
9. "How Low Can You Go" 
10. "Yes" 
11. "Conversation" 
12. "Safe Here" 
13. "Can't Let You Leave" 
14. "Churches" 
15. "Poem"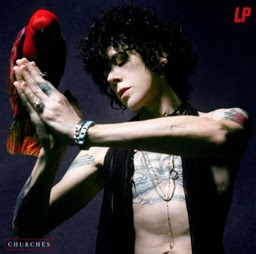 LP has released six albums and three EPs – including 2020's Live In Moscow; 2018's Heart to Mouth, featuring single "Girls Go Wild" that was Italy's most-played radio hit of 2019; and 2016's breakthrough Lost On You featuring the global smash title track that reached No. 1 in 18 countries and was Diamond-certified in France, plus Platinum in Greece, Italy (4X) and Poland. Their songwriting credits include hits for Rihanna ("Cheers (Drink To That)", Rita Ora ("Shine Ya Light"), Cher ("Pride," "Red"), Backstreet Boys ("Love Will Keep You Up All Night"), Leona Lewis ("Fingerprint"), Céline Dion ("Change My Mind") and Christina Aguilera ("Beautiful People"). LP's YouTube channel receives more than 2.4 million views a day and their songs are streamed more than 2M times daily across all DSPs. 
LP's dates for their 2022 headlining world tour in support of Churches will kick off on January 21st at the O2 Academy in Leeds, England and conclude after 30 dates across the continent on March 13th at Paris, France's Salle Pleyel. A month later, LP will hit the road for U.S. dates, beginning on April 14th in Portland, Oregon at the Roseland Theater. The 29-day run includes shows at LA's famed Greek Theatre, two concerts in NYC, The Ryman in Nashville, Stubbs in Austin and more, before concluding on May 22nd in San Diego. 
Follow LP:
Website – Facebook – Twitter – Instagram – YouTube – Spotify – Apple Music