*The Following Press Release Was Issued By Scoop Marketing*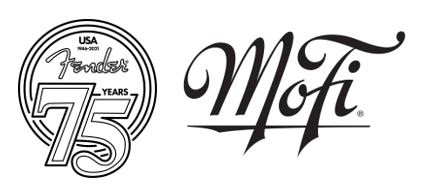 FENDER ANDMOBILE FIDELITY ELECTRONICS PARTNER TO RELEASE 'FENDER® X MOFI PRECISIONDECK,' FENDER'S FIRST-EVER TURNTABLE INSPIRED BY ICONIC PRECISION BASS
Limited Run PrecisionDeck's Shape Designed by Fender Custom Shop's Principal Master Builder Yuriy Shishkov  
HOLLYWOOD, Calif. (September 21, 2021) — Fender Musical Instruments Corporation (FMIC), the world's largest guitar manufacturer and foremost audio technology company, Mobile Fidelity Electronics (MoFi), announced a partnership to develop, produce and release Fender's first-ever turntable, the Fender® x MoFi PrecisionDeck. Limited to a run of only 1,000 units, and priced at $3,495.00 USD, the high-end turntable is available for purchase today at Fender.com and MoFi.com, or see a list of authorized MoFi retailers at mofielectronics.com.  
The Fender x MoFi PrecisionDeck, is a high-performance turntable in every way, with gorgeous looks that resonate with decades of music history. With a shape designed by Principal Master Builder Yuriy Shishkov of the Fender Custom Shop (FCS), the PrecisionDeck utilizes the same wood, swamp ash, as the famed Fender Precision Bass® guitar. The blanks of swamp ash are sourced, milled, and finished in the iconic three-color sunburst by Fender USA. The components are designed and built by MoFi, and the deck is assembled, featuring technology from the award-winning UltraDeck, with testing and setup by MoFi at the company's factory in Ann Arbor, Michigan. The turntable table is virtually ready to play straight out of the box with its pre-mounted MoFi MasterTracker pickup. Each limited-edition unit is individually numbered, badged, and certain to become a collector's item. "Having the opportunity to work with MoFi to bring this turntable to life has been a pleasure. The turntable finish comes in our legendary and iconic 3-color Sunburst and of course, uses the same ash wood used to make the Fender Precision Bass® guitar," noted Yuriy Shishkov, Fender Custom Shop Principal Master Builder.  
The journey of the PrecisionDeck has been an authentic collaboration between two respected brands within the industry. MoFi is renowned for remastering some of the greatest records of all time, and collaborating on a turntable with the Fender brand, whose instruments are widely featured on those albums, was a natural fit. MoFi Electronics President, John Schaffer said, "Working with the entire Fender team has been a great pleasure and we could not be more excited or proud of the result. From the beginning, creating this turntable has been a joy. The ideas on how to leverage both companies' strengths and create something authentic and special just flowed. With the very first prototype we knew we were really on to something, as folks would stop by to admire what we were creating." 
Along the journey, MoFi learned of a story that convinced them that the PrecisionDeck was fated to be. In the early 1940s, Leo Fender was operating Fender® Radio Service in Fullerton, Calif. His primary business was repairing home audio equipment—radios, TVs and hi-fi sets. In 1945, Fender, with fellow inventors Doc Kauffman and Clifton Abbott, designed and patented a turntable of his own. Fender ultimately sold the turntable rights in 1945 for $5,000 in advance royalties and used the proceeds as seed money to fund the K&F Manufacturing Corporation with Kauffman. K&F manufactured lap steel guitars, amplifiers and the record player for a short time before Kauffman sold his share in the company to Fender. Undaunted by Kauffman's departure, Leo Fender established Fender Electric Instruments in 1946. Now, 75 years later, Fender's name is once again gracing a technologically advanced turntable. 
The Fender® x MoFi  PrecisionDeck is available now for purchase within the U.S. at MoFi.com and Fender.com and as well as select wholesale partners globally (for a list of authorized MoFi retailers, visit mofielectronics.com). For more information, visit www.fender.com. For product images, click here. Join the conversation on social media by following @Fender @FenderCustomShop. 
# # # 
Fender​​® x MoFi PrecisionDeck ($3,495.00 USD): True to its name, PrecisionDeck arrives meticulously built, with every part and function having gone through extensive testing to ensure optimal performance. Equipped with its own equivalent of a guitar pickup — in the form of Mobile Fidelity Electronics' acclaimed MasterTracker cartridge — for easy setup and operation, the 25.5-pound PrecisionDeck features a heavy 1.3-inch Delrin platter that delivers deep-black backgrounds and a fantastically low noise floor. A 300RPM isolated AC synchronous motor, 10-inch straight aluminum gimbaled bearing Ultra tonearm with Cardas Audio wiring, hardened-steel inverted bearing system, anti-vibration feet and a dust cover further complete a gorgeous, U.S.A.-made turntable devoted to preserving the authentic sound found in the grooves of vinyl LPs while allowing listeners simple fine-tuning options. 
ABOUT FENDER MUSICAL INSTRUMENTS CORPORATION:
Since 1946, Fender has revolutionized music and culture as one of the world's leading musical instrument manufacturers, marketers and distributors. Fender Musical Instruments Corporation (FMIC)–whose portfolio of owned and licensed brands includes Fender®, Squier®, Gretsch® guitars, Jackson®, EVH®, Charvel® and Bigsby®–follows a player-centric approach to crafting the highest-quality instruments and digital experiences across genres. Since 2015, Fender's digital arm has introduced a new ecosystem of products and interactive experiences to accompany players at every stage of their musical journey. This includes innovative apps and learning platforms designed to complement Fender guitars, amplifiers, effects pedals, accessories and pro-audio gear and inspire players through an immersive musical experience. FMIC is dedicated to unlocking the power of musical expression for all players, from beginners to history-making legends. 
ABOUT FENDER CUSTOM SHOP:
Since 1987, the Fender Custom Shop and its esteemed builders have astounded players and collectors worldwide with marvels of creativity, ingenuity and artistry. From its humble Southern California beginnings, the Fender Custom Shop has grown to become the world's preeminent maker of highly collectible, custom instruments operating in Corona, Calif. Known as the "Dream Factory," the Fender Custom Shop is also home to an honored group known as the Master Builders – some of the most-skilled luthiers in the world – who craft Fender's legendary instruments and push the boundaries of possibility. The distinguished Master Builders make dream guitars a reality for players – from Eric Clapton, Jeff Beck, H.E.R. and Jimmy Page to collectors, working professionals and guitar enthusiasts. As the epicenter of innovation at Fender and the pinnacle of the brand, ideas and production techniques devised in the Fender Custom Shop for both Masterbuilt and Teambuilt guitars go on to inspire and influence Fender's other production line models.  
ABOUT MOBILE FIDELITY ELECTRONICS:
Guided by the same principles that inform the world-renowned Mobile Fidelity Sound Lab (MoFi) label, Mobile Fidelity Electronics has quickly become a landmark name in the high-end audio and music industries. Originally created to address the desires of MoFi customers who wanted audio gear that would allow them to best experience the label's Original Master Recordings, Mobile Fidelity Electronics set out to design and build American-made components that reproduce vinyl LPs without artifacts or embellishment. The company's initial line of analog source gear won Product of the Year Awards around the world. Building on that momentum and fulfilling a need for accessible products that deliver uncompromised performance, Mobile Fidelity Electronics engineers are expanding the brand to include everything one requires to reproduce music — from the recordings to the loudspeakers — the way it should be heard. 
ABOUT MOBILE FIDELITY SOUND LAB:
Mobile Fidelity Sound Lab's ongoing quest is to deliver the foremost sounding audio entertainment software that technological innovation can provide. From our first Original Master Recording™ vinyl LP to our latest Ultradisc UHR™ Super Audio CD, we have been and will remain a steadfast innovator in the audiophile frontier. We further believe that technological development serves best when accompanied by a profound awareness and appreciation for the elusive magic and mystery that comprises music itself. Our greatest hope is that our products will serve as conduits for ears and souls to experience premium, pure, natural sound reproduction of diverse, pre-eminent original master recordings across the entire musical spectrum. In response to rapid advancements in both recording formats and audio playback systems over the past several years, Mobile Fidelity has maintained its ongoing commitment to improving industry standards. This has resulted in the introduction of numerous innovations in the audiophile arena: half-speed mastered Original Master Recording™ LPs; Ultra High Quality Records™ (UHQRs); high fidelity cassettes; consumer alignment devices for phono cartridges and audio cassette decks; Original Master Recording™ compact discs; the 24-karat gold plated Ultradisc™ CD; the Ultradisc™ Ultra High Resolution™ (UHR); and most recently, our One-Step 45RPM SuperVinyl Box Sets. To this day, the independently owned firm continues its commitment to exceeding industry standards.