*The Following Press Release Was Issued By Qabar – Extreme Music PR*
TETHRA: Italian death/doom metal group launches video "A Light Year Breath" featuring Gogo Melone; album 'Empire of the Void' sees release March 20 via Black Lion Records
Italian melancholic death/doom act Tethra's upcoming third album, Empire of the Void, is a few days away from its release date. Metal Italia debuts the video for the 6th track, "A Light Year Breath," that features Gogo Melone (Aeonian Sorrow) as the guest vocals. The album drops this March 20 on Black Lion Records on both digipak CD and digital formats.
The band informs: "For this second single, we wanted to play with colors and the emotions associated with them, taking the listener to the edge of the universe through a tunnel made of ink and swirls of dense smoke."
 
Watch the video at Metal Italia RIGHT HERE and CLICK HERE to stream/download the audio version of the track
 
---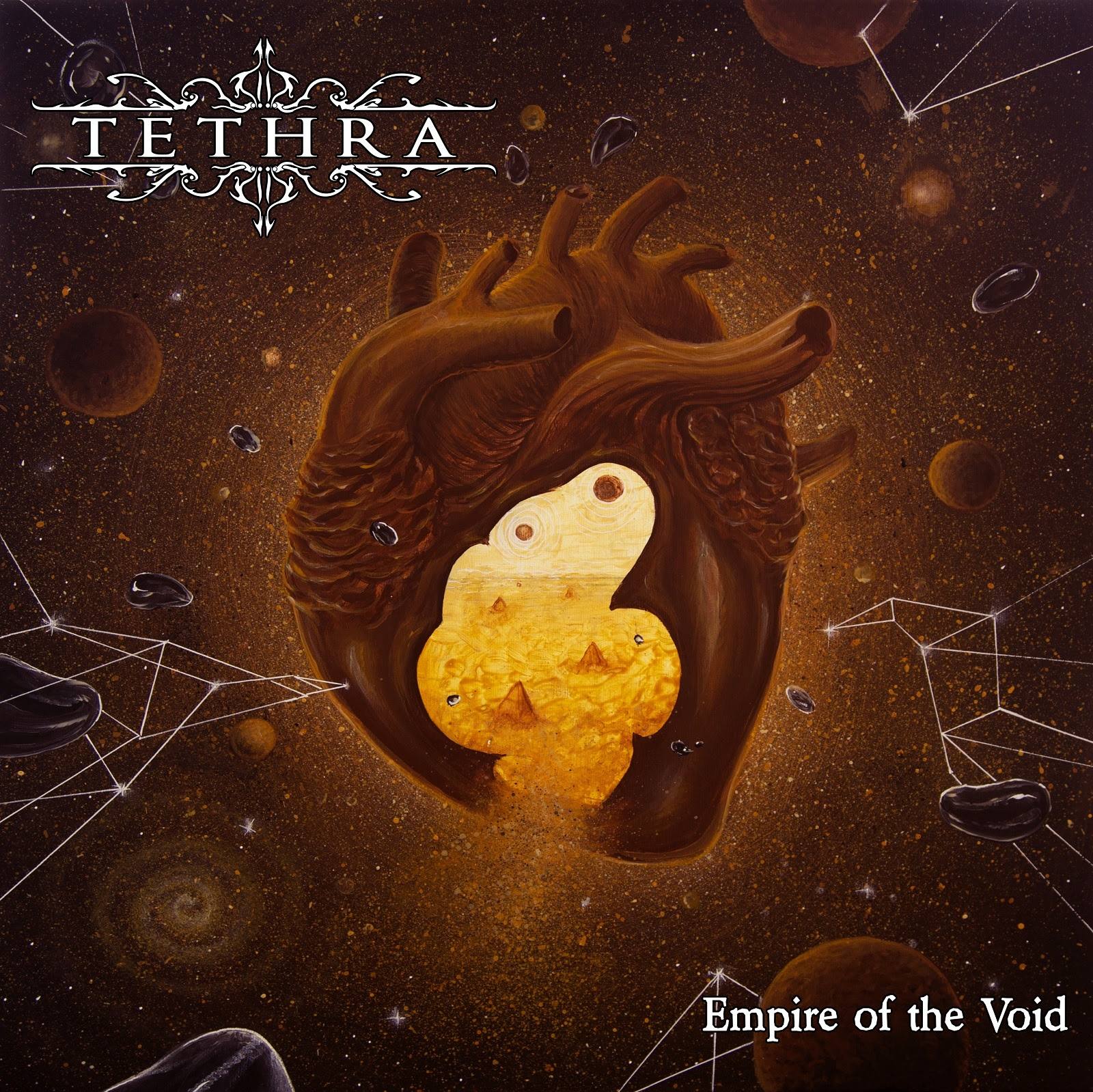 Cover art: Korvo (aka Korvuz Korax)
Formed in 2008, TETHRA is a melancholic death/doom quintet based in Novara, Italy. Having two full-lengths and an EP under their wing, Tethra has gradually honed their gothic death/doom craft over the years, incorporating elements of progressive metal and plunging into the ravine of bleak melodies. Apart from sharing stages with the likes of Sepultura, Daylight Dies, Saturnus, Forgotten Tomb, The Foreshadowing, Swallow the Sun, Antimatter, Officium Triste, and Negura Bunget, the Italian group has played several live shows and festivals (including Malta Doom Fest) to date.
Their 2009's debut EP At the Gates of Doom allowed them to spread their name among the fans of the genre and eventually helped them to share stages with some influential names of the genre. Released in 2013 via House of Ashes Productions, the first full-length Drown into the Sea of Life was recorded, mixed and mastered during the winter of 2012 at Elnor Studio. The concept of this album is tied to the element of water and expands the main theme of the EP into the passage between life and death. 2016 saw the release of a digital single, a personal cover of the classic Candlemass song "Solitude," with a renewed line up.
Once again recorded at Elnor Studio, the second full-length Like Crows for the Earth was released in 2017 via Sliptrick Records. This album, mastered by Greg Chandler (Esoteric), demonstrated how the band had evolved sonically. The lyrics became more intimate, focusing on topics such as loss, solitude, and feelings of rejection. The album also revolves around social issues, such as mankind's indiscriminate exploitation of the Earth, metaphorically represented by the crow: if not stopped, this animal poses an undeniable threat to its ecosystem and is bound to destroy all other species.
Tethra will release their new album Empire of the Void on 20th March via Black Lion Records. the concept around this new work focuses on the duality between what is hidden inside the depths of the human soul and the vastness sidereal space — both empires of the void. Recorded and mixed from August to November 2019 by Matt Stancioiu at Elnor Studios and mastered by Greg Chandler (Esoteric) at Priory Recordings Studios, this album contains nine original numbers of elegant melodies and a dismal, doomy cover of David Bowie's timeless masterpiece "Space Oddity" (available only on the CD version). Through the personal blend of progressive doom, death metal, and the most evocative gothic metal, Tethra strung along with a very dynamic songwriting process on this album while remaining faithful to the sound built for more than ten years of activity.
 
Order:
https://tethrablacklion.bandcamp.com/album/empire-of-the-void
https://www.indiemerchstore.com/b/black-lion-records
 
For More Info:
https://www.facebook.com/TethraHell 
https://www.youtube.com/user/TethraHell/videos 
https://www.facebook.com/blacklionrecordsswe
https://twitter.com/Blacklionrecswe
https://www.instagram.com/blacklionrecordsswe