*The Following Press Release Was Issued By Fly PR*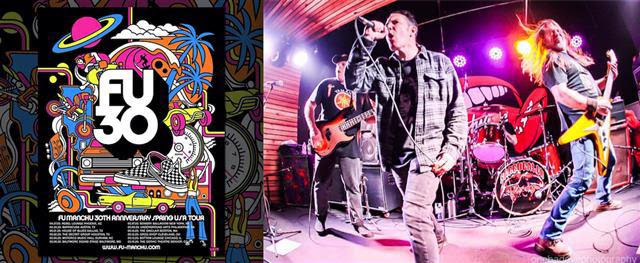 SPEEDEALER TO JOIN FU MANCHU ON THEIR 30TH ANNIVERSARY TOUR STARTING IN APRIL, AND WILL HEADLINE MARYLAND DOOM FEST IN JUNE
January 28, 2020 (Dallas, Texas) – Speedealer have been invited to join Fu Manchu on their 30th Anniversary Tour starting in April. They'll play the direct support slot all nights, including shows outside the U.S. They'll step off the tour for some dates in June which they already committed to, including the headliner slot at Maryland Doom Fest.
"We are honored that our good friends in Fu Manchu have asked us to celebrate their 30th anniversary by heading out on tour with them," says guitarist Eric Schmidt. "We have spent so much time on the road with them over the years —including that unforgettable tour with Motörhead. It'll be good to be sharing the stage with them again."
Speedealer is working hard to promote their current album, Blue Days Black Nights. Fans can get copies of the vinyl LP HERE. "Blue Days Black Nights delivers exactly the kind of savage sonic fury fans have come to expect from the group," says Dave Pehling at San Francisco CBS.
The Void Report summarized the band's recent history nicely explaining "While line-ups have changed over the years, guitarist Eric Schmidt and drummer Harden Harrison remain, bringing The Buck Pets' Ricky Pearson in to play bass and The Swingin' Dicks' Daniel Barron to sing. This lineup has been playing live since 2016 and are hardly catering to their fan bases nostalgia. They're just as great as they've always been and Blue Days Black Nights proves there's plenty of gas left in the tank."
The ten tracks on Blue Days Black Nights are 1. "Never New," 2. "Rheumatism," 3. "War Nicht Genug," 4. "Nothing Left To Say," 5. "Sold Out," 6. "Losing My Shit," 7. "A Reckoning," 8. "Shut Up," 9. "Mainmast," and 10. "Blue Days Black Nights."
Visit the band online:
speedealerband.com
wiki/Speedealer
instagram.com/speedealerband
facebook.com/Speedealerband
twitter.com/Speedealerband